Chemical peels are a non-surgical way to help achieve healthier, younger-looking skin. 
Chemical peels come in a variety of strengths.  Our medical aestheticians will evaluate your skin and make a recommendation of which peel and protocol is best for you.  Depending on your personal skin type and goals, these recommendations follow Dr. Coundouriotis guidelines to help patients achieve healthy skin and their best "Face for Life".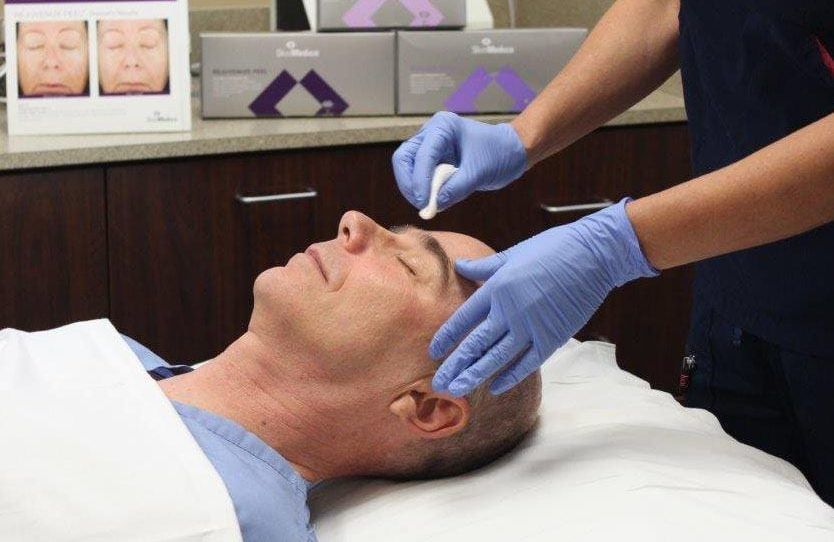 Dr.Coundouriotis having a SkinMedica Rejuvenize Peel
Dr. Coundouriotis believes medical-grade skincare is an integral part of maintaining a more youthful appearance at any age.
Chemical peels help reduce the visible signs of aging and sun damage, including the appearance of fine lines and wrinkles. They help to firm the skin, improve the texture and overall pigmentation changes that occur as we age.  They also help stimulate collagen production which decreases as we age.  Evening out your skin tone and improving the overall texture of your skin will give you a more radiant appearance, with little or no downtime.   
Chemical peels may be done on many areas of the body including face, hands, neck, chest, and arms.  Depending on the area and the condition being treated, over time chemical peels will improve:
Dull complexion
Uneven pigmentation
Age spots
Acne
Rough feeling skin
Sun-damaged skin
Blotchy complexion
Melasma
At Coundouriotis Facial Plastic Surgery & Laser Center we offer customized peel treatment plans as well as the following:
SkinMedica  Illuminize Peel
SkinMedica Vitalize Peel
SkinMedica Rejuvenize Peel
Jessner Peels
Glycolic Peels

These chemical peels are administrated by our licensed medical aestheticians, under the direction of our board-certified facial plastic surgeon.