Hands are a telltale sign of age and can easily broadcast your age!
Years of sun damage make hands look old: and similar to the aging process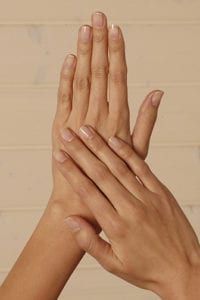 in our face, the loss of volume, collagen and hyaluronic acid in the skin create an old and frail hand appearance. Hands becomes wrinkled, thin, and pigmentation  issues and brown spots become visible. Unsightly bulging veins, tendons, and bones become prominent, and this contributes even further to an aged frail look for hands.
Until recently, hand rejuvenation focused primarily on sun spots and freckles on the surface of the skin. At Coundouriotis Facial Plastic Surgery and Laser Center, we provide a full range of treatments addressing not only surface problems but also texture and volume loss issues.

Example of a patient who had dermal filler and  Pearl Laser procedure.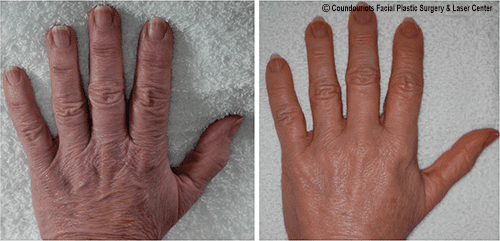 Over time and with  appropriate care, we will reverse the appearance of aging hands and restore smoother, younger, healthy looking hands. Depending on the problem being address, Dr. Coundouriotis uses a combination of procedures.
Example of a patient who had IPL treatments and dermal filler.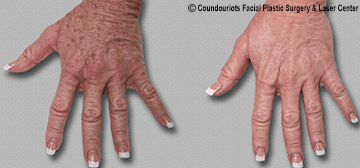 This  may include dermal fillers, skin resurfacing, and pigment targeting lasers to reverse decades of damage and aging from hands. Dr. C may also recommend adding aesthetician treatments such as chemical peels, microdermabrasion, sun protection, proper skin hydration and topical products for home use.

Laser resurfacing procedure : Dr. Coundouriotis performs Pearl Laser procedure for resurfacing of the hands. This is a safe effective treatment to address wrinkles, uneven texture and solar damage. Pearl addresses the top layer of skin, but additionally this laser treatment heats the deeper layer to provide long-term benefits.
Intense Pulsed Light procedure: Dr. Coundouriotis performs photorejuvenation treatments on the hands with the Lumenis M22 IPL laser. With IPL, Dr. C uses opt imized light to deliver energy to targeted pigmented lesions. The light energy is absorbed and over a few days dissolves the targeted pigmentation and leaves the skin more even, smooth and spot free. IPL is great for hand, arms, shoulders and chest. Multiple treatments may be needed for optimal results, but IPL is a short in office procedure with virtually no down time so it is easy to schedule even with  an active life style.
Dermal Fillers:To re-volumize hands Dr. Coundouriotis treats hands with injectable fillers. He incorporates the use of specialized cannulas to ensure perfect placement, to minimize side effects and obtain best results. Depending on specific problem and desired result, Dr. C may recommend one of several hyaluronic acid dermal fillers or a volumizing filler such as Radiessse. This smooth gel filled with tiny calcium hydroxylapatite microsperes is a filler that stimulates the body to produce collagen. Radiesse is the first filler approved by the FDA to restore volume to hands.