Restore volume and youthful fullness in the face.
Dermal fillers are injectables products that help diminish facial lines, wrinkles and creases, and help restore volume and youthful fullness in the face.

As we age, our faces naturally lose volume and fat; the skin loses elasticity and collagen and becomes thinner; and the skeletal structure of the face changes. These factors along with and many others including muscle laxity, lifestyle, and sun exposure contribute to an aged facial appearance. 
Dermal fillers are very helpful to reduce early signs of facial aging and as part of a long term facial rejuvenation plan. Dermal fillers are commonly used to:
Soften facial creases and wrinkles such as nasolabial folds,
marionette lines, chin wrinkles Fill lip lines and plump thin lips
Improve downturned corners of the mouth
Volumize facial contours such as cheek area, jawlines and temples
Reduce the appearance of recessed scars Plump sagging hands
Dermal fillers are among the safest cosmetic procedures in use today, but not every filler is the right solution for every type of wrinkle, and this is one reason it is important to have filler injected only by experienced, board certified plastic surgeon who will recommend the right dermal filler to best address your concern. Dr. Coundouriotis spends time with you to understand your concerns and goals and then recommends the best dermal filler based on your specific need. Risks and side effects are minimized and outcomes improved by using the right dermal filler for the right problem
There are several different types of dermal fillers.  They differ in chemical make-up, longevity, have varying degrees of softness, and are approved for different and sometimes specific uses.  The following is an overview of several different dermal fillers:

Juvederm XC family of products from Allergan :

Juvederm XC : Juvederm XC is a hyaluronic acid dermal filler which provides smooth and natural-looking results for moderate to severe facial wrinkles and folds such as smile lines, vertical lip lines, corner lines, and marionette lines that appear around the mouth and nose. Juverderm XC injectable gel comes in two different formulations – Juverderm Ultra XC and Juvederm Ultra Plus XC which is a more robust formulation for volumizing and correcting deeper facial wrinkles and folds. Juvederm, manufactured by Allergan, is FDA approved to provide results lasting up to a year. 


Juvederm Voluma XC: Juvederm Voluma XC is the first and only FDA approved injectable gel specifically indicated for the cheek area. It is injected deep in this area and restores the youthful profile to the cheekbones. Juvederm Voluma XC contains a modified hyaluronic acid (HA) and when properly injected instantly adds volume and creates a contour and subtle lift in the cheek area. Juvederm Voluma XC is also the only injectable filler with FDA approval for lasting up to two years.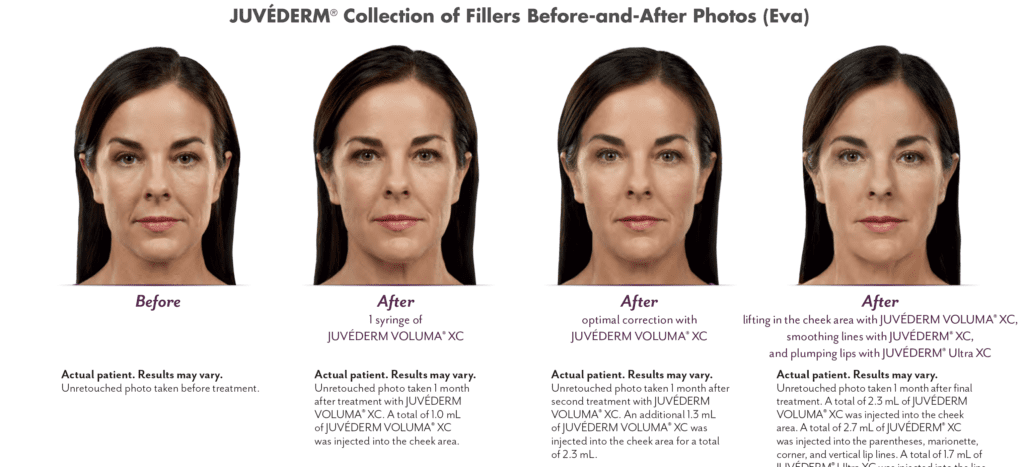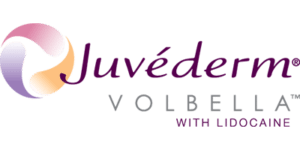 Juvederm Volbella XC: Juvederm Volbella XC is the newest in the family of Juverderm products. It is a very soft, smooth injectable gel with FDA approval for the lips and perioral lines. Volbella provides long lasting results; it is the first and only FDA approved filler proven to increase lip fullness and correct perioral lines for up to one year.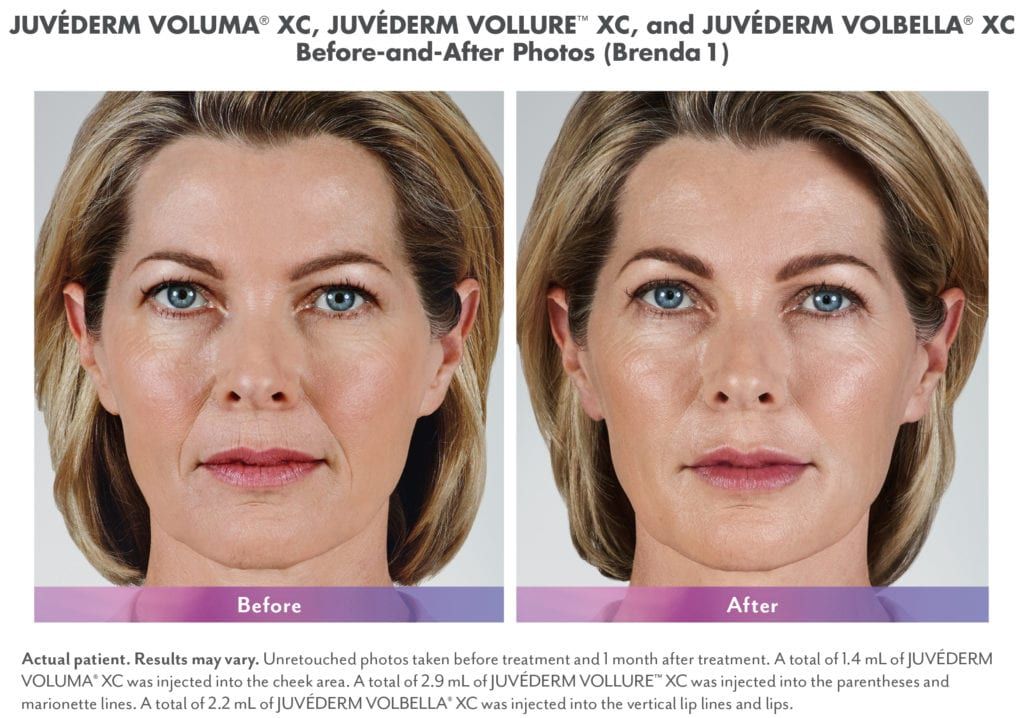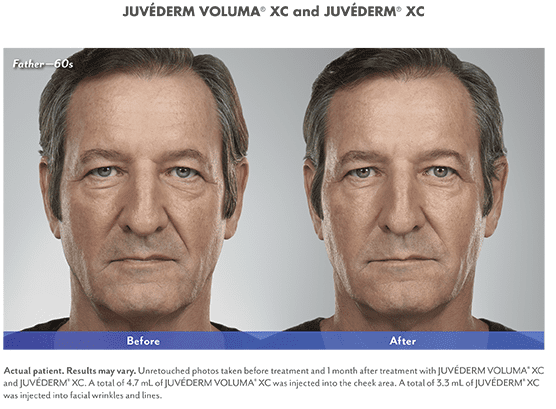 The Restylane family of products from Galderma :

Restylane: Restylane is the original injectable hyaluronic acid (HA) dermal filler and has been used all over the world for over 20 years. Restylane adds volume and fullness to the skin and corrects moderate to severe facial wrinkles and folds such as smile lines, the lines from the nose to the corner of your mouth.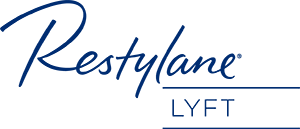 Restylane Lyft: Restylane Lyft is a more dense HA injectable that is FDA approved for two areas of the face including the midface cheek area. It is also used to smooth out deeper or more pronounced wrinkles and folds in other areas of the face such as on the sides of the nose and mouth (nasolabial folds). Restylane Lyft is FDA approved to last 12 months or more.

Restylane Silk: Restylane Silk is designed for meticulously precise lip definition and line control for smooth full lips. It is the first FDA approved treatment to specifically address the lips and fine vertical lines around the lips. Its unique smooth formulation of hyaluronic acid for the precise shape and definition necessary for supple full lips.

Belotero Balance

Belotero is an injectable hyaluronic acid dermal filler manufactured by Merz Aesthetics. Belotero is a very soft injectable gel created using a proprietary cohesive polydensified matrix process which allows the product to evenly and completely blend into the skin's natural tissue. Unlike the other HA dermal fillers, Belotero is fully hydrated when it is injected into the skin. For this reason Belotero may be used to gently fill stubborn etched-in lines and wrinkles such as lip lines, etched lines around the mouth or crows feet areas around the eyes.
Although individual results may vary, Belotero Balance is FDA approved to last up to six months. 
Radiesse

Radiesse is a volumizing filler manufactured by Merz Aesthetics.  Radiesse is different from other dermal fillers; it is a smooth gel filled with tiny calcium hydroxylapatite (CaHA) microspheres.  Once injected Radiesse adds immediate volume and lift to areas of wrinkles and folds in the face , but  Radiesse also stimulates the body to produce collagen.  This happens over the ensuing weeks after injection.  The new collagen surrounds the microspheres and eventually the microspheres and gel are naturally metabolized by the body.  The newly formed collagen provides a long-term effect that may last for a year or more.

Helpful things you should know to minimize risks:
Dermal fillers come in pre-loaded syringes direct from the manufacture. They have lot numbers and expiration dates that are trackable from the manufacture.

 

It is important to know that your filler is FDA approved and has been purchased directly from the manufacturer
Don't let price be your guide. If a filler treatment costs far less than the average price,

 

there is most likely a compromise being made either in the quality of the product or the skill of the injector.

 

Never risk making a bargain with your face.

Any injectable treatment should be done in a medical setting with sterile instruments. Treatments done in homes, hotels, spas, or resorts are not being done in medical environments, regardless of who is doing them.

Do not get injectable treatments from sources outside a doctor's office. Know what you are being injected with, that it is an FDA-approved filler, and that it was purchased directly from the maker.

Make sure you understand and follow the post procedure guidelines

.